Projects
Alongside doing great work for great clients at Semantic, I have also worked on a couple of projects in my own time outside of working hours. Around The Grounds was my first website and in fact my first Umbraco website. I am always keen to improve my own websites, but I am also very keen to help out others if they need an online presence!
---
Around The Grounds
My first website - launch November 2018
Around The Grounds, also known as ATG, is an Umbraco based website showcasing the Grounds and Clubs that I have visited as an avid football fan. The site has 2 Hubs, a Grounds Hub and a Clubs Hub.
The site also features an away game Timeline, this shows every away game that I have been to mainly as a Southampton fan.
Here are some of the stats from Around The Grounds Google Analytics account (as of March 2020)
2.1k unique users (957 in UK, 799 in US)
2.8k sessions
7.7k page views
67% bounce rate
1 minute 10 seconds average time on page
58% of users on Desktop, 36% on Mobile and 5% on Tablet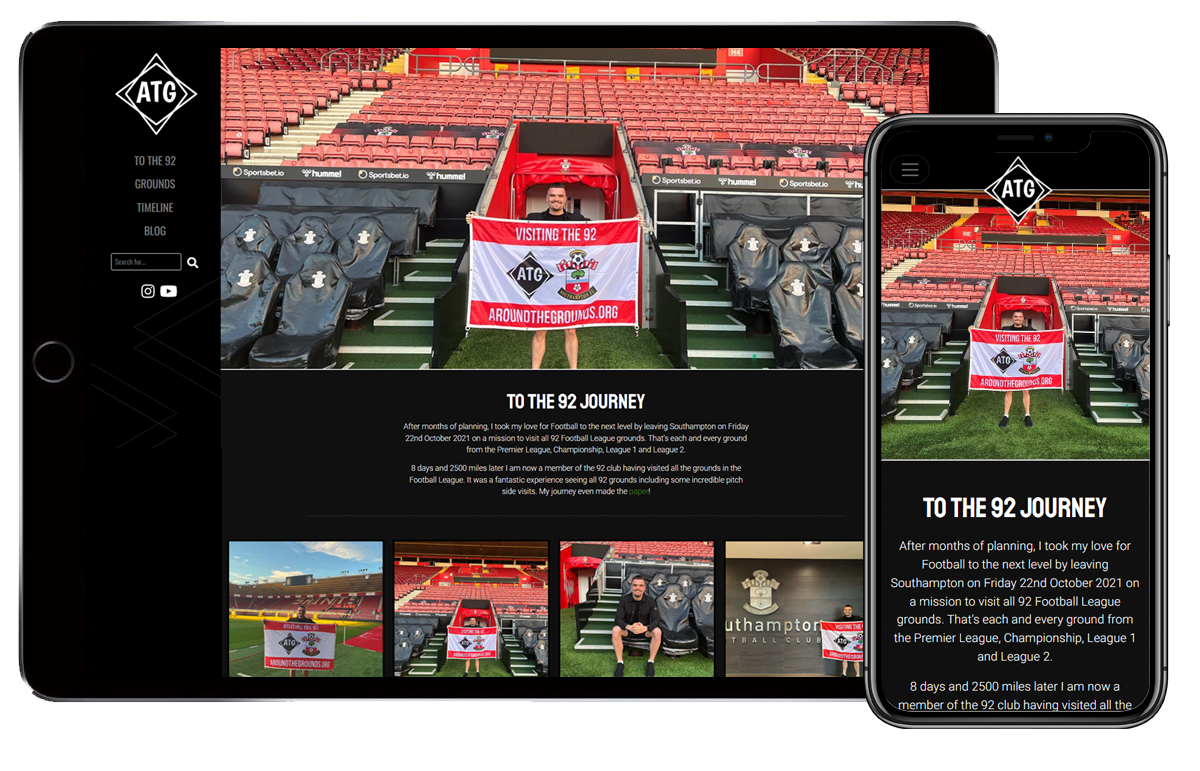 ---
Suitably Shod Shoes Lymington
Launch June 2020
In May 2020 I was asked by a family friend if I could build an e-commerce store for her shoe shop, known as Suitably Shod Shoes Lymington. Due to the global pandemic (COVID-19) that we were in at the time, the shop on the highstreet had been shut for a few months. With no online presence prior to this, setting up an e-commerce store for the shop was vital in keeping the business running.
This is where I helped by creating a Shopify store, allowing her to continue selling her products online while the shop was closed. This included setting up the account, styling the front end, setting up various tags and categories and ensuring that the site is SEO friendly. I also helped her understand how Shopify works and how she can manage it going forward by sending a series of screen videos that included clear instructions.
I was very proud when the site went live as it had a clear impact on the business - there were a considerable amount of orders within the first month, which one could argue saved the shop during these challenging times. Not only has this online store been successful in these uncertain times, it is a massive addition to the shop in the long run which is allowing them to sell products to people further than on the highstreet.
"From the moment I asked Dan to help me to create a website I felt so reassured that I was not only in safe hands, but I would see great results. Dan's professional approach to his work is outstanding yet warm and welcoming. I am thrilled with the results!" - Sharron Lewis
Here are some of the stats as of July 2020:
783 online store sessions
16.3% returning customer rate
13 total orders
1.4% online store conversion rate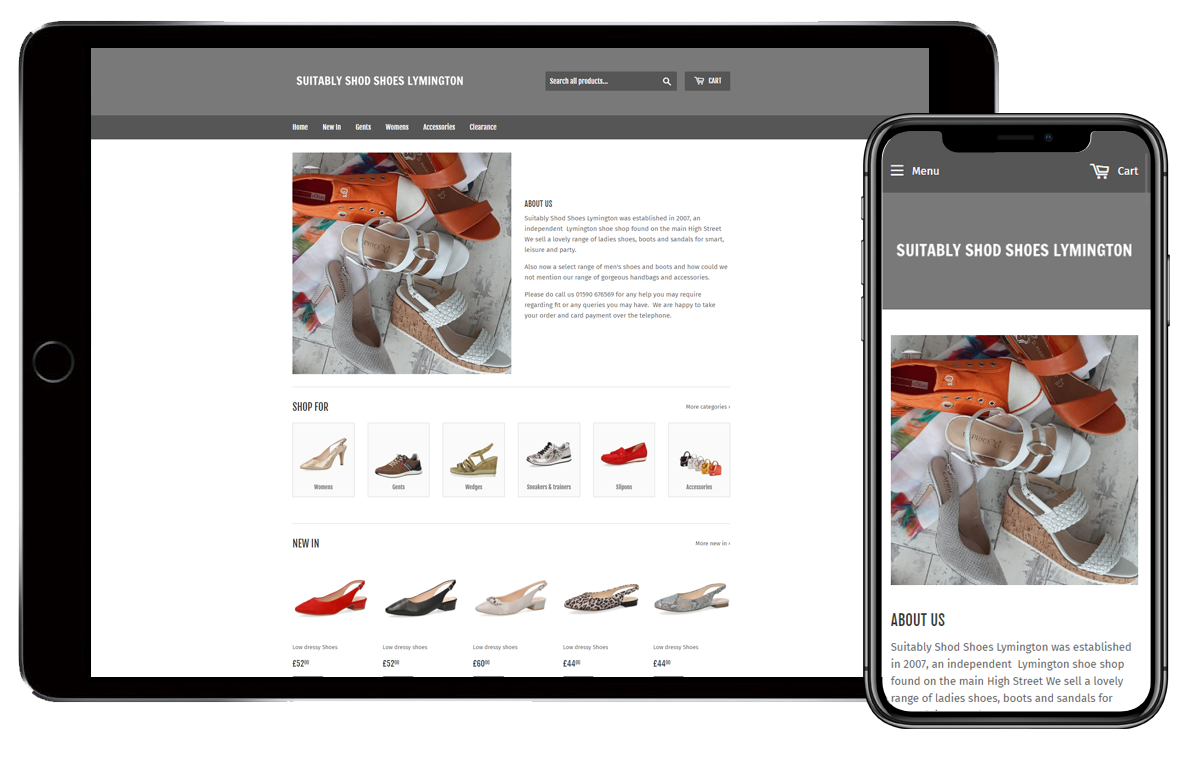 ---
Semantic Projects
Noteable projects that I have been involved in at Semantic
During my time at Semantic I have been involved in lots of projects and fun work for our amazing clients. I am now going to drill down into some of my highlights on this journey so far...
Merlin Annual Pass and Local Annual Pass Sale's
Merlin occasionally have an Annual Pass (otherwise known as MAP) and a Local Pass (otherwise known as LAP) sale. Being a Support developer at Semantic, I played a big part in these sales.
This is because the sale includes creating a lot of demo pages with new visuals and content. Not only this, it also comes with a big deadline and the need to implement switchover code. It is vital that the switchover code was added to all the relevant pages and that it was tested to make sure it will go live when required. The sites affected were Chessington, Warwick Castle and the Dungeons.
I was also very proud of an email I received from the Senior team at Semantic, informing me that revenue increased massively towards the end of the sale. Meaning that the work I was doing for the sale was helping to drive urgency.
Project
How was I involved?
New LEGOLAND Discovery Centre locations

I played a big part in the set up of both the LEGOLAND Discovery Centre Hong Kong and The American Dream website. My first step was to set up the infrastructure on the live site in the CMS… which was relatively straight forward. However, I then needed to export the database and run the project locally to add the new language/translations, set up the search index for the new sites and then password protect the new domains upon publishing.

I was also involved in setting this up for Peppa Pig China. I really enjoyed being involved in this process - even though it was challenging!

Marwell zoo new tickets page layout

Back in August 2019 it was time to revamp the Marwell Zoo tickets page. At the time the tickets page had a couple of tables with buttons linking to the products. My task was to revamp this page to include 2 panels for the different tickets. Making it much easier for the visitor to see the different types of tickets on offer and be able to compare them.

Once I had pulled together a demo tickets page with this new decoy, we set a test up in Google Optimize to see which one would perform better - at Semantic we believe that if you are not testing you are guessing. The test ran for just under 3 months and was measured on revenue. There was a clear winner, it was the variant tickets page with the 2 panel layout. This page had a 4% increase in revenue during the test - which I thought was amazing! With the test ending with a clear winner, the demo that I pulled together went live.

Chessington and Warwick Castle 5th panel and split testing

Throughout the different seasons at both Chessington and Warwick Castle, they were keen to add a 5th panel to the tickets page. Before this development both of the ticket pages were designed to fit the standardization that Merlin went through - this included 4 ticket panels that were used for Day Tickets, Special offers and Annual Passes. However, when it came to seasonal events like Christmas or Halloween, the marketing team were keen to upsell a specific product. This is where I built the 5th panel that would sit above the 4 panels already on the page.

Much like the Marwell new tickets page layout, once the panel was built and approved we ran a split test for this 5th panel - to make sure it would have a positive effect on the revenue. The test began and ended in October 2019, this is because there was again a clear winner. The page with the 5th panel had a 5% increase in revenue. Meaning that this page went live at the time and that this upsell was used throughout the year on different products.

Website heatmap and recommendations reports

On the back of various phone calls/meetings with clients or attending an expedition I would occasionally be called upon to pull together a heatmap and recommendations report. I thoroughly enjoyed working on these as the data you can get from heatmaps in Hotjar is very fascinating. This included scroll heatmaps that show how far down the page the users are going and click heatmaps that show where the users are engaging/clicking. It is also very interesting to see both of these heatmaps on different devices including desktop, tablet and mobile. I was then responsible for pulling together some recommendations to improve the website and the users experience.

Bath Rugby fixture popup

The site had a Footer Widget which was hardcoded and the initial purpose of this was to promote The Clash in the run up to the big game at Twickenham. However, they wanted to use this popup to promote their upcoming fixtures, meaning that it was going to be updated much more frequently. I was happy to go into the code and manually update this every week, but that was not practical.

This is where I changed the way that it works so that the Footer Widget is driven by the CMS, meaning that the team can update it themselves. Not only this but I also redesigned The Clash popup which was a little outdated and it needed revamping.

Umbraco security patches

I have also helped the team with rolling out Umbraco security patches for our clients CMS's. Most recently this was in March 2020 when a client dependency package needed to be updated. Even though this was not particularly difficult, I enjoyed updating the package, testing the update and then publishing the site. Security is obviously very important, so we actioned this on the same day that the patch was released - which was a very quick turnaround!

Cross browser and user acceptance testing

I have been helping with this process for new projects prior to launch. This has included The Blackpool Tower, Brightwater, Merlin Fun, SEA LIFE, Authentic Adventures and many more. I have enjoyed working on these as some could argue that this is one of the most important parts of a new site launch.

Ultimately, if the new site is not thoroughly tested it could have a big impact on sales decreasing. It is very important in this phase to have a very good attention to detail to make sure that nothing is missed.

To ensure that everything is functioning how it should be and looking as expected on different devices, browsers and operating systems. An example of this is testing many different card payments in the booking flow or ensuring that the navigation behaves as expected.

New sites/rebuilds involvement

It is always a pleasure to help the team with bigger projects and be part of the magic. I have notably been involved in the build of The Silverstone Experience, The Blackpool Tower, SEA LIFE Trust and The Sports Governance Academy. My involvement has not necessarily been the coding of the site but it has involved; adding content to the CMS, redirects from the old site and also teaching the client how to use their new CMS. I have specifically enjoyed leading the CMS training calls with the client to show them around their new CMS. Just like the cross browser testing phase, this is just as important… if the client does not know how to get the best out of the CMS, there was no point building it! It is also very important that the redirects are in place as otherwise a lot of traffic and SEO might be lost!

Merlin Promotions 2019 site wide updates

Around November the Merlin Promotions team briefed in lots of 2019 changes that they needed before Christmas - I was sent over a couple of PDF's, with about 60 slides in total! We were not only against time but there were also some heavily involved changes required.

Along with the content updates including text and images, I needed to create a new database for the 2019 prize draw entries and to update the config file to ensure that the draw dates were correct for 2019. I also had to create 2 dev sites and 2 new deployment slots in Azure so that I could test the changes before they went live.

I thoroughly enjoyed this as it also gave me an opportunity to manage this mini project and to be liaising with the client - this included many phone calls. I was both relieved and proud when these updates went live!

Another highlight with the Merlin Promotions team was working on an upsell for Alton Towers and Thorpe Park and also adding the new Bear Grylls Adventure attraction to the sites.

Accesso store updates

I have also taken lead role in a couple of Accesso store link updates. The first occasion was for the Blackpool Cluster, this included the Blackpool Tower and the Blackpool Dungeon. My job was to switch the store link to the new one and then update all the products, tickets and events on the site to match the new ID's / Promocodes. This was obviously very important!

Shortly after doing the Blackpool Cluster, I then carried out the Accesso store update for Warwick Castle. Both the tasks also involved a conference call to ensure that the switch over was a success. The transition for both of these projects was very smooth, leaving the clients very happy.

Season landing pages, competitions and popups for Chessington and Warwick Castle

I always enjoyed pulling together landing pages for both Chessington and Warwick Castle as they were always exciting with different elements. Some of the landing pages included Summer, Christmas, Halloween, Easter and more event focused like Dragon Slayer. Along with all of these seasonal landing pages, I was regularly involved in the setup of competitions or data collection campaigns. This involved pulling a new page together and hooking up a form so the data goes into a new list in Campaign Monitor and also into Experian. This also included the development of site wide popups, they were always fun to design in photoshop and then build!

Merlin Privacy

Merlin Privacy was another big project that I was heavily involved in with the team. I was initially given the task of developing the wireframes for this site, that had been approved by Merlin.

Not only was I involved in the design of the site, I was also part of the process of hooking the templates that I created into Umbraco, the CMS that we were using. Just like many other projects that I have been involved in, I have since carried out updates for the site.

Merlin Promotions landing pages

The Homepride and Attack a Snack landing pages that I built for Merlin Central is also another noteable project that I have worked on. Both of these mini projects that I led were simple MVC sites with basic designs, but I was very happy when they went live.

The clients were also very happy with their landing pages - this was in fact the start of a future lead as we were then recommended to the Head of Partnerships and Sponsorships of Merlin for a project for VISA - which was very cool!

Sea Life Trust Rebuild

When I started at Semantic, the SEA LIFE Trust site was written in DNN, meaning that it was not very manageable, it was not easy to do updates. One of my first tasks at Semantic was to rebuild this site. This rebuild was one of the biggest challenges I have faced, but it was the first site I published at Semantic.

Since the site rebuild I have been in regular contact with SEA LIFE Trust carrying out various content updates. This has included updates for the Sea Life Trust Gweek transfer and the Beluga Whale Sanctuary.

Merlin's Magic Wand USA

Another project that I took lead control of was Merlin's Magic Wand USA. This involved heavy updates to the site, including a new layout for the Magic Spaces hub and its sub pages. This also included other content / visual updates across the site.

The project included various conference calls with the client, who at the time was based out in San Francisco. I really enjoyed this project and was glad to see it all go live!

Merlin Clubcard Promotions

I was heavily involved in creating the Merlin Clubcard Promotions site. This included adding a Merlin Annual Pass page and Standard Ticket page for each attraction. I was comfortable with developing this site as a lot of it was very similar to the work I had carried out when rebuilding the Sea Life Trust site (adding each individual page and its corresponding controller etc).

This was also very similar to work that I carried out for the Merlin British Gas rewards site. I have enjoyed working and developing these Merlin sites.

Chessington Schools Hub

Building a Schools Hub for Chessington was also one of my first tasks. This was also one of the first projects that I took lead in. I successfully developed a Schools Hub which branched off to many sub pages.

Since the Hub has gone live, it has been added to the main navigation and I have been regularly updating the content in the Hub.
---
The Edit
My second website - launch March 2019
Back in February 2019 I was approached by one of my close friends who needed a website for his band. His band had been doing a lot of gigs in Southampton and Bristol but needed an online presence to get their name out there and increase awareness.
This is where I collaborated with The Edit to launch their new website. The website showcases information about them as well as tickets for upcoming gigs.
Here are some of the stats from The Edits Google Analytics account (as of March 2020)
363 unique users
480 sessions
868 page views
66% bounce rate
1 minute average time on page
62% of users on Mobile